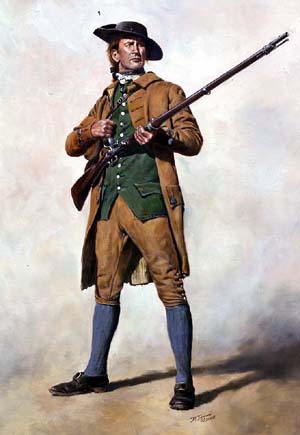 In March, The Stamp Act was passed by the English Parliament imposing the first direct tax on the American colonies, to offset the high costs of the British military organization in America. Thus for the first time in the 150 year old history of the British colonies in America, the Americans will pay tax not to their own local legislatures in America, but directly to England.
Under the Stamp Act, all printed materials were taxed, including; newspapers, pamphlets, bills, legal documents, licenses, almanacs, dice and playing cards. The American colonists quickly unite in opposition, led by the most influential segments of colonial society - lawyers, publishers, land owners, ship builders and merchants - who are most affected by the Act, which was scheduled to go into effect on November 1.
Also in March, The Quartering Act requires colonists to house British troops and supply them with food.
In May, in Virginia, Patrick Henry presents seven Virginia Resolutions to the House of Burgesses claiming that only the Virginia assembly can legally tax Virginia residents, saying, "If this be treason, make the most of it."
In July, the Sons of Liberty, an underground organization opposed to the Stamp Act, was formed in a number of colonial towns. Its members used violence and intimidation to eventually force all of the British stamp agents to resign and also stop many American merchants from ordering British trade goods.
On August 26, a mob in Boston attacks the home of Thomas Hutchinson, Chief Justice of Massachusetts. Hutchinson and his family narrowly escape.
In October, the Stamp Act Congress convenes in New York City, with representatives from nine of the colonies. The Congress prepared a resolution to be sent to King George III and the English Parliament. The petition requests the repeal of the Stamp Act and the Acts of 1764. The petition asserts that only colonial legislatures can tax colonial residents and that taxation without representation violates the colonists' basic civil rights.
On November 1, most daily business and legal transactions in the colonies cease as the Stamp Act goes into effect with nearly all of the colonists refusing to use the stamps. In New York City, violence breaks out as a mob burns the royal governor in effigy, harasses British troops, then loots houses.
In December, British General Thomas Gage, commander of all English military forces in America, asked the New York assembly to make colonists comply with the Quartering Act and house and supply his troops. Also in December, the American boycott of English imports spreads, as over 200 Boston merchants join the movement.